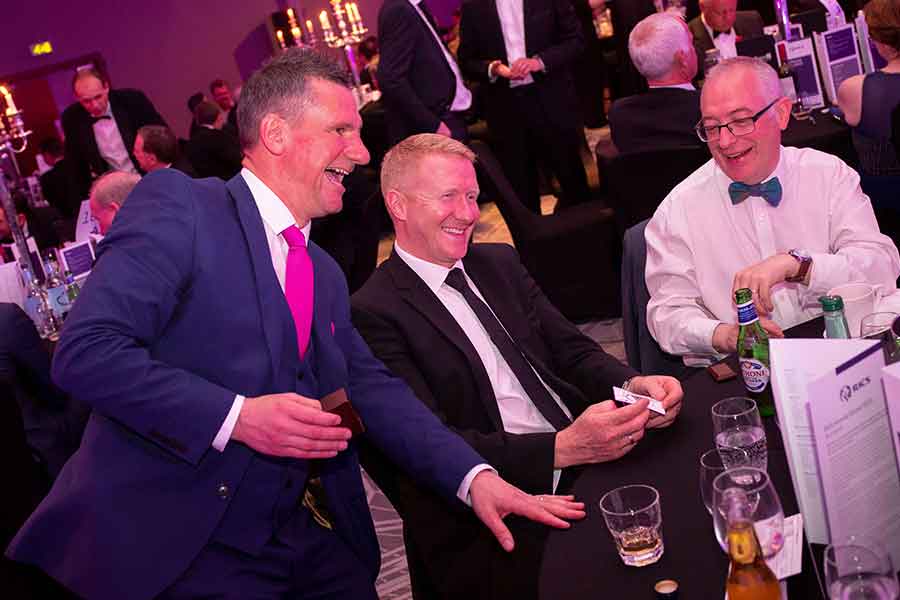 Comedy Magician Hire for Events in Edinburgh & Scotland
Jody is an award winning magician based in Edinburgh and is in demand to perform at events throughout Scotland. As a professional close up magician and comedy entertainer, Jody will expertly engage with all your guests.
Make your next event memorable with high impact magic and comedy entertainment.
AWARD WINNING EDINBURGH MAGICIAN FOR HIRE
When you hire a magician, you want to book with total peace of mind. With Jody's professional and specialist award winning magician services, you can relax in the knowledge that you are hiring one of Scotland's funniest and finest magicians. Jody's unique style of comedy magic is designed to create magical moments of joy, laughter and wonder. Entertainment that will forever be remembered!
COMEDY ENTERTAINMENT FOR YOUR GUESTS
Jody will expertly engage with all your guests, so everyone has a front row seat for a special VIP performance.
From comedy card routines to mischief with money and mental mind reading, Jody's high impact magic combines visual moments of astonishment with magic that happens in your mind and in your hands! Jody is in demand as a wedding magician and party magician and regularly provides corporate magic entertainment across Scotland.
PROFESSIONAL MAGICIAN EDINBURGH: 10 REASONS TO HIRE JODY GREIG
VIP entertainment for all your guests
Experienced, professional and trusted magician
Memorable, high impact and 5-star entertainment
Creates a magical atmosphere of joy, laughter and wonder
Comedy card routines, mischief with money and mental mind reading
Interactive magic that happens in your hands and in your head
Unexplained miracles and the occasional (free!) hustle
Shares visual moments of astonishment with mind blowing moments
Bespoke entertainment for parties, weddings and corporate events
CLIENTS
From International Airlines to the best golf clubs in Scotland, Jody's portfolio has an impressive range of clients.
"What an amazing afternoon with Jody yesterday performing for my father's birthday. A small family gathering, ages ranging from 7 to 70 years old, and Jody pitched it brilliantly – we all loved every moment. Absolutely Magic! Thank you so much Jody."
Sophie Birkbeck
Family Magic Entertainment
….Magical magic at Drumkilbo House last Saturday. Everyone was omg…. really…. amazing….. how !! A highlight of the evening! Feel I need to organise another party to just have him back!! Jody, you were fantastic!!"
"This is the second year in a row that we have had Jody perform at our Christmas night out…… He is TOO good! We need to know how! Thank you Jody, you are one an amazing entertainer and magician. JUST TOO GOOD!"
"I had Jody perform some walk-around magic for my 50th on Saturday night. Jody worked fantastically and effortlessly made his way around each group of people to spend dedicated time with each. These were met with gasps of "awe" and "no way!" reactions. Amazing slick magic that still has us all wondering just how did he get that 'thing' into that envelope!!! Highly recommend him but Jody you need better jokes……kidding, hilarious and just perfect! X"
FREQUENTLY ASKED QUESTIONS
Absolutely yes. Jody is a magician based in Edinburgh and travels all over Scotland to perform his comedy magic.
Prices vary depending on a range of factors including type of performance and location. Jody, Magician Edinburgh, ensures that he provides you with value for money. Contact Jody today to discuss a performance fee.
Jody has performed at the amazing Edinburgh International Magic Festival many times over the years as a close up magician, stage performer and mystery tour guide entertainer! He has had sell out shows for The Secret Room and Aye Spy at Magic Fair.
In 2015, Jody debuted his new show – Aye Spy – at the world's biggest arts festival. His show was awarded – Best Free Show – by the Edinburgh Evening News.

Aye Spy is a themed show based on the premise that Jody is a top level unemployed secret agent! This premise allows Jody to finely craft many skills that you would expect from a spy that are similar to that of a magician: deduction, seduction, mental agility, weapons, nerves of steel.

This action packed, comedy show is a rich blend of story telling and mind blowing magic!
Jody is currently the resident magician at Heart of Midlothian Football Club. He performs for sponsors in the club museum and in the hospitality suit before games. You can watch the Hearts video, and see a brief cameo appearance from Jody performing in the sponsors lounge.
MAGICIAN EDINBURGH HIRE
Call Jody on 0777 264 9857 or use the Contact Form and arrange a call back at your convenience. Jody will provide you with a free consultation and bespoke quote for your event. As an Edinburgh Magician, Jody travels all across Scotland and the UK to perform.